Computer Corner Radio Show
Fifth Dimension Radio Network
Celebrating almost 16 years - October, 2019 (since Oct 4, 2004)
Links: Schedule Podcasts Pictures History Official List Clubs Help About Contact GCO Gene
Smartphone Listening Droid-MAC-Linux Listening Special Links Guest Hosts News Sources How to Geek
Why All This Malware? Spectrum Auction USB-C Windows 10 Update/Download Daves Letter
Radio Spectrum Chart - Gene's List of Interesting Web Sites VLC for Windows 10
">What is Ham Radio? What is an EMP Pulse?
Our Stream (Saturday Mornings)
New Show Every Week on Saturday at 8AM on 5DRadio.com
with both Gene & Joe and maybe even Tony &/or Ralph
Your Comments and emails keep me going
Note: WCHE 1520AM may play a re-run if Board Operator not available- Come to 5DRadio for a fresh new show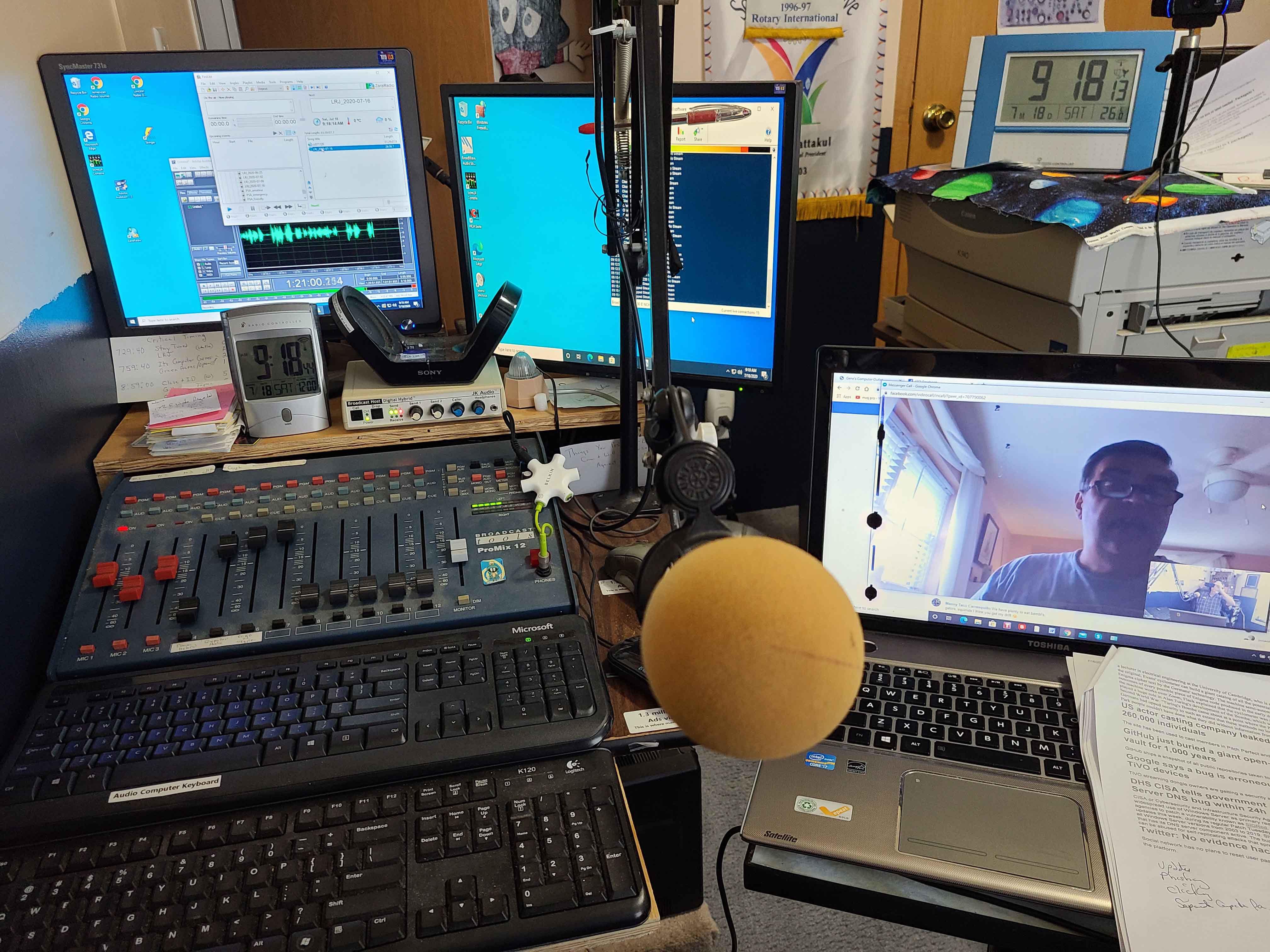 New 5DRadio Studio in Honey Brook, Chester County
this is how I bring Joe &/or Tony onto the show
Computer 1 (Tower ) for Audio announcements and also recording
Computer 2 (Tower ) for "Streaming Server" using Broadwave
Computer 3 (Laptop) used to bring in Joe Myshko remotely
Computer 4 (not shown) iPad used for email
Pictured Below: wide angle shot of the whole 9 by 10 "Radio Room" (Studio and Ham Radio)
Why you need to listen every week and also entice your friends and neighbors to listen
Malware: Ransomware, Spyware, Trojans, Adware, Viruses, and Worms - New threats, The Risks, Avoidance, Removal, The Scams, Phishing
Windows Flaws & updates - why you need to restart your computer weekly and also not interupt them
Data Collection by your browser and almost everything you do on the Internet is used against you contributing to ID Theft, Phishing, and Scams
Why You should not be using Windows XP - Vista - or Windows 7 - and Upgrade to Windows 10
Backing up: Why its so important to do it and do it right (off-line backup)
Why your Windows Computer should be powered by an UPS (uninteruptable power supply)
We have the latest news from all sources
"Service Notes"
July 4th, 2020: New Stream Show and Podcast but WCHE running a "re-run"
Now back as of 5-2-20 after loosing 3 weeks on 5DRadio stream in our move to Honey Brook Pa (we never missed a show on WCHE and we never missed a Podcast)
The stream is working . Joe and I record a new show every Thursday evening while the Covid 19 Lockdown continues. We might be able to go LIve Saturdays after June 5th
The 5DRadio Studio is at its new location in Honey Brook, Pa
If you fail to hear our 5DRadio stream on Saturday morning, look for the Saturday morning show on WCHE1520.com
If WCHE fails to pick us up, we should be right here.
Network Show Sponsor

Bee.Net hosts all of our Podcasts, our Web Sites, and also provides our Email address for the show - all for FREE
5DRadio.com is an Internet Radio Network set up to Broadcast - Stream - Podcast - and provide our programming to affilliated radio stations
Established: Oct 11, 2008 after WCOJ 1420 was sold to the Catholic Radio Network
Our show has been carried by WCHE 1520 in West Chester since shortly after 5DRadio was established
How our stream works: We have an audio mixer board for our mics and other audio sources which feeds to our "audio" computer and that feeds to our "streaming server" computer using software (Broadwave Streaming Server). We use a service called DYNDNS that locks our ever changing IP address to fivedradio.dyndns.org on our server. The link on our 5DRadio.com web page at BEE.NET supplies the path so your computer can find our stream.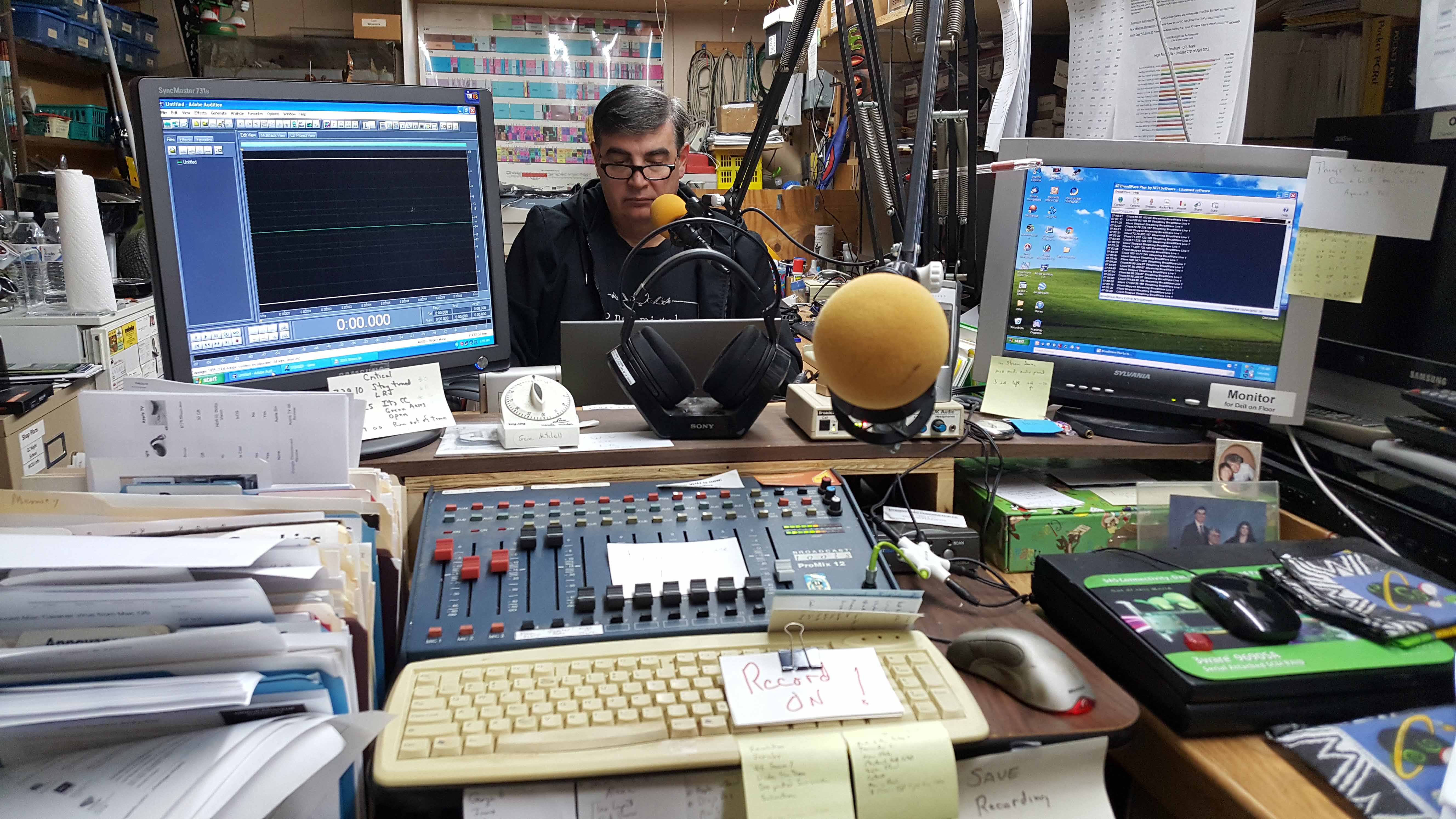 Joe pictured above in the old studio in the Shop at Malvern
SERVICE NOTES Archive
Saturday November 10 We were able to make a change to our main router so that it will update our ever changing IP address with FiveDRadio.DYNDNS.org and now the software on our computer should no longer be required.
Saturday November 3 The Show was broadcast from West Chester due to the storm the night before. We were running on generator but the internet was up and down, including a changed IP address again and Dyndns not following. The 5DRadio router was also not functioning.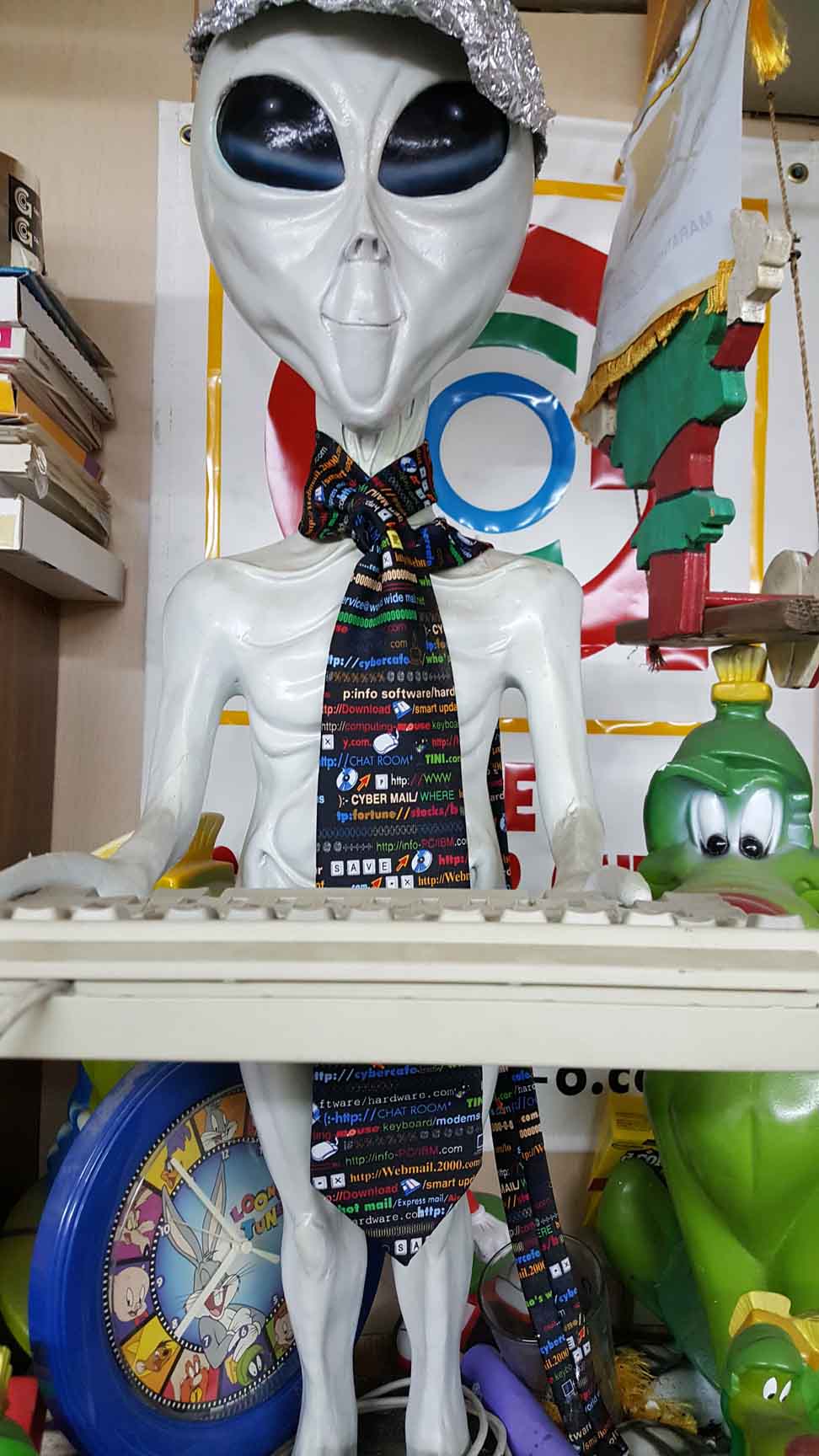 Sparky, our Guest Co-Host 3-9-2019 (My Alien Friends)
Embeded Player no longer supported by Windows