Links: Schedule Podcasts Pictures History Official List Clubs Help About Contact GCO Gene
Smartphone Listening Droid-MAC-Linux Listening Special Links Guest Hosts News Sources How to Geek
Why All This Malware? Spectrum Auction USB-C Windows 10 Update/Download Daves Letter
Why the Solar Report is so important Radio Spectrum Chart (most interesting) Gene's List of Great & Interesting Web Sites
Our Stream (Saturday Mornings)
VLC for Windows 10
"Service Notes"
Our Show Saturday March 28 will be special in that it was recorded Thursday the 26th with up to date news and info. This, because of the "lockdown" at the station. WCHE will play the recording at 8AM and I will also play it on 5DRadio.com at almost the same time. I will be in the 5D Studio and can receive your emails. No phone calls please. Depending on circumstances, it might be necessary to repeat this procedure the following week.
Home of the
Computer Corner Radio Show
Fifth Dimension Radio Network
Celebrating 15 years October, 2019 (since Oct 4, 2004)
Live on 5DRadio.com every Saturday Morning from 8-930AM (8-9AM on WCHE-1520AM)
Why you need to listen every week and also entice your friends and neighbors to listen
Malware: Ransomware, Spyware, Trojans, Adware, Viruses, and Worms - New threats, The Risks, Avoidance, Removal, The Scams, Phishing
Windows Flaws & updates - why you need to restart your computer weekly and also not interupt them
Data Collection by your browser and almost everything you do on the Internet is used against you contributing to ID Theft, Phishing, and Scams
Why You should not be using Windows XP - Vista - or Windows 7 - and Upgrade to Windows 10
Backing up: Why its so important to do it and do it right (off-line backup)
Why your Windows Computer should be powered by an UPS (uninteruptable power supply)
We have the latest news from all sources
If you fail to hear our 5DRadio stream on Saturday morning, look for the live Saturday morning show on WCHE1520.com as we head to the WCHE studio in West Chester, Pa if our Internet or electric system fails. If WCHE fails to pick us up, we should be right here.
Network Show Sponsor

Bee.Net hosts all of our Podcasts, our Web Sites, and also provides our Email address for the show - all for FREE
Special Note: Gene's Shop and the 5DRadio studio moved March 2009 from Frazer to Malvern. Click link for directions.
Please call 610-590-0451 before stopping at the new shop or studio .
5DRadio.com is an Internet Radio Network set up to Broadcast - Stream - Podcast - and provide our programming to affilliated radio stations
Established: Oct 11, 2008 after WCOJ 1420 was sold to the Catholic Radio Network
Our show has been carried by WCHE 1520 in West Chester since shortly after 5DRadio was established
How our stream works: We have an audio mixer board for our mics and other audio sources which feeds to our "audio" computer and that feeds to our "streaming server" computer using software (Broadwave Streaming Server). We use a service called DYNDNS that locks our ever changing IP address to fivedradio.dyndns.org on our server. The link on our 5DRadio.com web page at BEENET supplies the path so your computer can find our stream.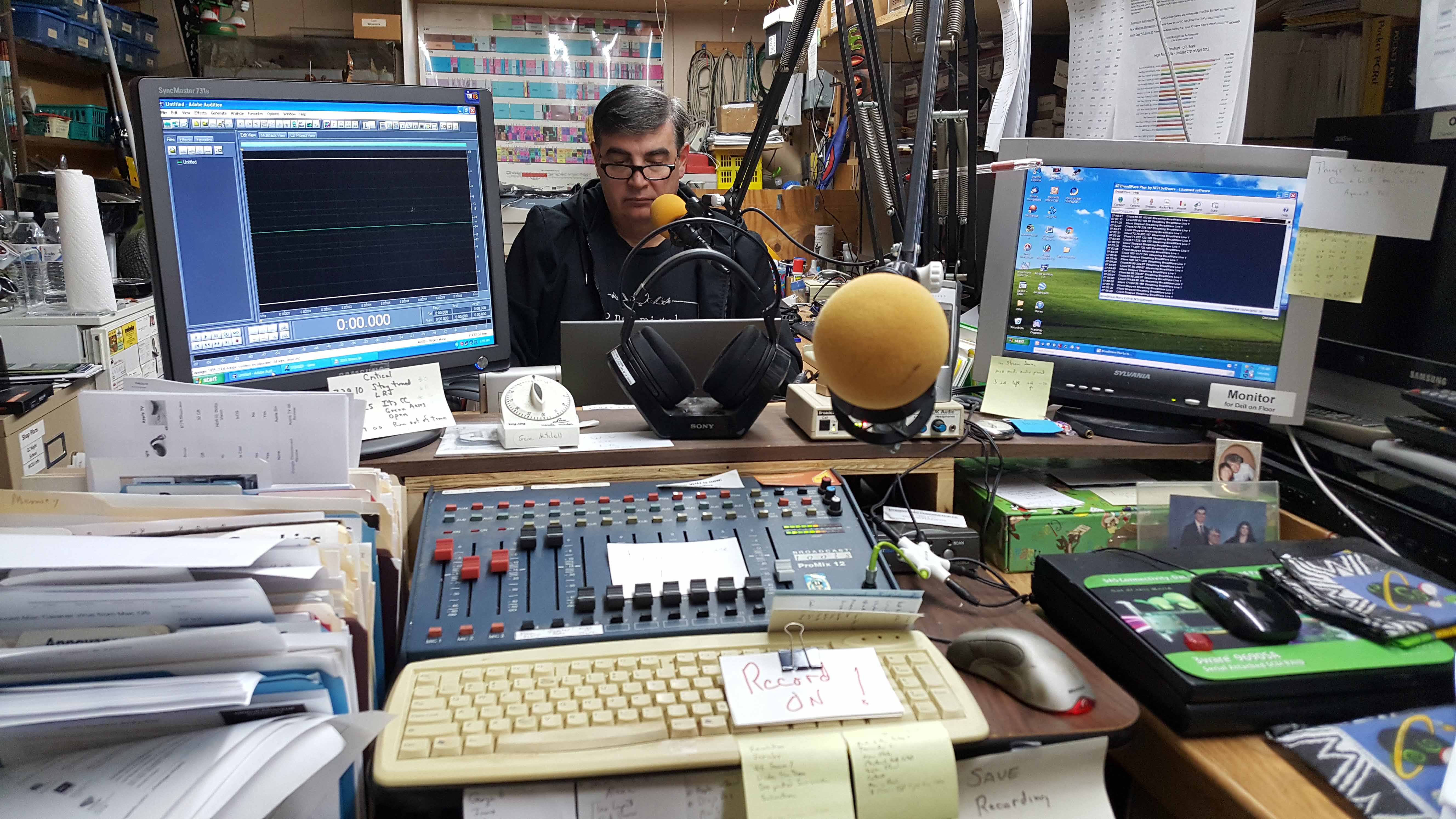 Joe pictured above in the studio in the Shop
SERVICE NOTES Archive
Saturday November 10 We were able to make a change to our main router so that it will update our ever changing IP address with FiveDRadio.DYNDNS.org and now the software on our computer should no longer be required.
Saturday November 3 The Show was broadcast from West Chester due to the storm the night before. We were running on generator but the internet was up and down, including a changed IP address again and Dyndns not following. The 5DRadio router was also not functioning.
Tune-In has notified us that our stream must be up 24/7 in order to maintain the stream on their app
September 29, 2018 Murphy Strikes Again! Dyndns service failed to negotiate our Verizon changed IP address and it didn't resolve to the fivedradio.dyndns.org:88 required for the link for listeners to get the stream.
Our Broadcast originated from WCHE studios in West Chester today. This is why we mention to look at WCHE1520.com and the station directly when things can and do go wrong.
September 22, 2018 The problem with the stream has been completely resolved: Problem #1 was the growing number of listeners on the stream so a quad-core computer replaced the old server. Problem #2 was "VPNFilter" Malware embedded inside the Router code. Now, no more dropouts and no more "slow-motion" voice. Who would have though? Remember the FBI warning several months ago about rebooting and then resetting your router? See the article attached in PDF format and maybe you should reset your router. No one is exempt. This was a Verizon provided router. Click here for article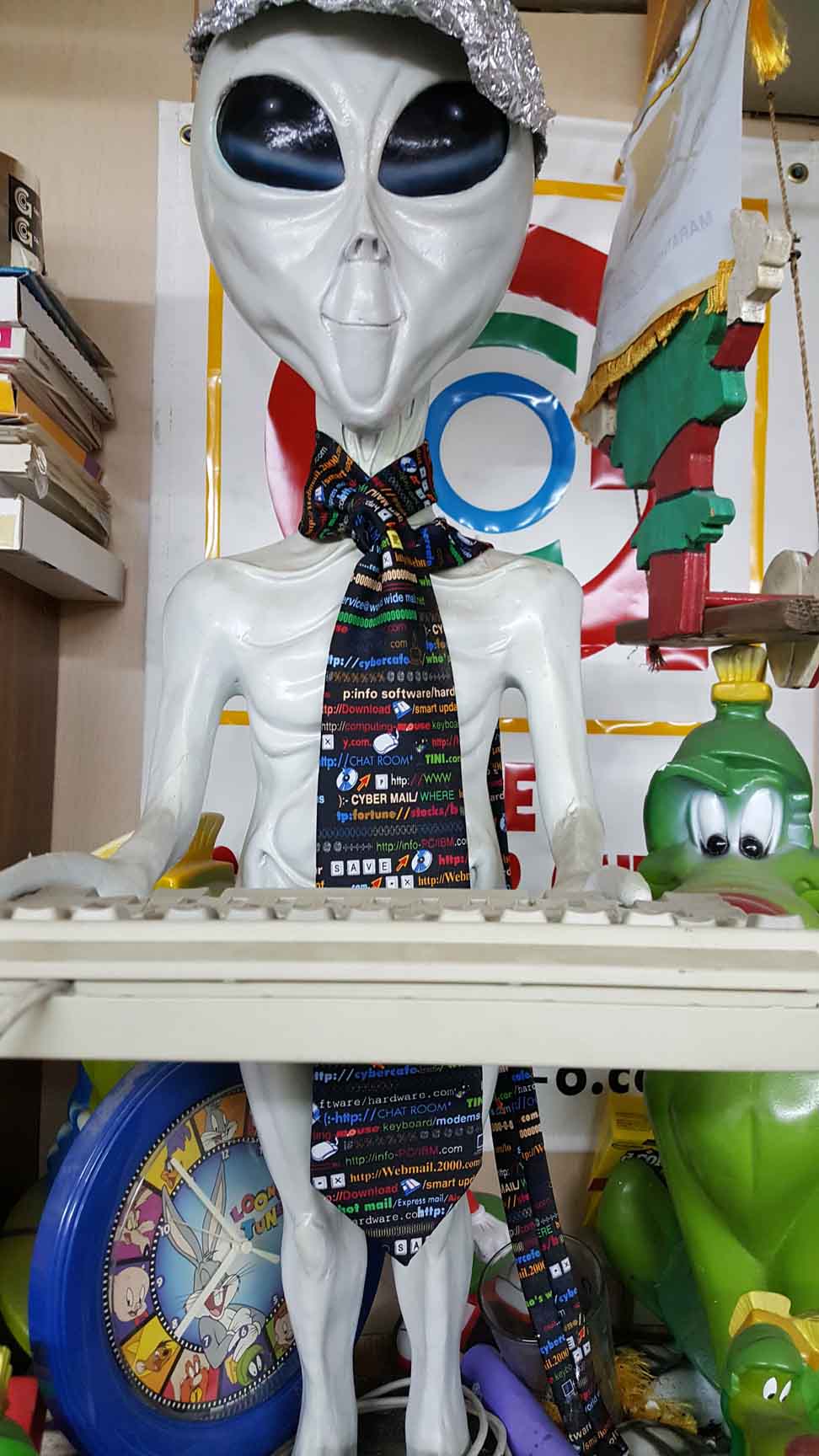 Guest Co-Host 3-9-2019 (My Alien Friends)
SERVICE NOTES: Latest
July 6th Gremlins: IP address of streaming server changed between 7am and 735am (Windows 10) Then when realized, fixed, and router got mismatch with MAC address. Show started about 5 minutes late.
July 3 Fixed the phone line "left only" problem
June 23 Updated Streaming Server to Win 10 1903 update
June 18 Changed to on-board sound card, abandoning the Echo Pro card - thereby fixing the left only stream channel
May 20 Streaming Server: New SSD Dive with new Windows 10 Home, upgraded Broadwave Server software - this to replace infected harddrive from Worm and "Trojan-Bitcoin" that came in due to buffer overflow from old Broadwave software on the open streaming port.
May 6 th: I build a brand new i5-8400 6-Core Computer (new motherboard-CPU-8GB-SSD drive) for the "On-Air" audio that should be most reliable. Lots of hours went into this. Its fast! This machine is used to not only record, but all audio goes through it on the way to the streaming server and it supplies announcements and programming in automation. Maybe this will fix the stereo problem too. (NOT)
May 4, 2019 The audio computer failed. It was turned on at 650AM, still running at 710am, and then as I turned to go out the door, I heard a motorboating noise. I went back, the computer was frozen. I restarted or tried to but it wouldn't come to life. I called Joe to meet me in West Chester and headed there myself. It appears to be the motherboard.
Past notes at bottom of this page
Embeded Player